Critics have described Stevie's voice as "superb" and "amazing." Couple this with reviews of "great guitar" "Impressive songs" and an "outstanding band" Stevie is a world class act not to be missed.
From the prestigious stage of the Melbourne Concert Hall as a classical guitarist, to the famous Beale Street in Memphis as a blues singer, Stevie's career has been anything but typical.  A graduate from the Victorian College of the Arts and with a postgraduate offer to study at London's Royal College of Music, the future seemed all but set.  An unexpected encounter with a campus blues band one night derailed this classical musician, and almost overnight, the playing of concertos with orchestras was traded for a steel string guitar and stomp box. Today this Chain and Vic/Tas award winner is widely regarded as one the best blues voices you will hear anywhere in the world.
 "Fantastic voice, beautiful music, great original material"
International Blues Challenge Memphis.
"The stuff being put out by all the big name pop divas would be a walk in the park for Stevie.."
SBS-Blues Times.
"Immensely talented…natural Soul-Blues resembling classic Hi and Stax sounds of Memphis…sultry vocals. Has complete mastery over her Les Paul Gibson"
Al Hensley, Rhythms Magazine, Australia.
"Wow…great sound…Paige has a superb and powerful voice…her band is outstanding"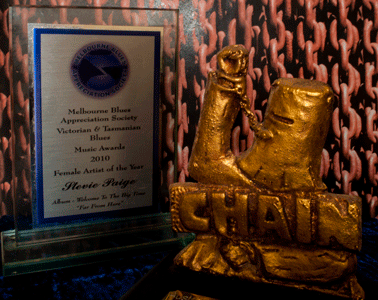 Steve Jones, Blues Blast Magazine, U.S.A.
"Thanks for helping us sound good"
Bill Wax, B.B. King's Bluesville, XM Satellite Radio, U.S.A. & President of the Blues Foundation.
"…an outstanding album"
Radio Indy.com Phoenix, U.S.A.
"Lush, rich, compelling…..an amazing piece of work"
John Lamp Sleepy Hollow Blues Club/Pulse FM, Geelong, Australia.
"Stevie's voice is amazing, effortlessly soaring from deep and husky to high and pure and back again. And her guitar playing is great……musically the album is beautiful"
Gary deWall Sydney Blues Society (Blues Times), Australia.
"…singer guitarist songwriter loaded with Soul and Blues feeling…a Blues and Roots CD with an impressive spread of styles, quality musicianship and a soulful silky vocal"
Geoff Forbes Melbourne Blues Appreciation Society Bluesletter, Australia.

"Wow!! This girl is amazing, she has a fantastic voice that has been touched by angels… perfectly balanced attractive songs…talent exudes from every pore of her skin"
La Hora Del Blues, Spain.
"…the soul feeling from her voice shines…"
Rootstime Magazine, Belgium.
---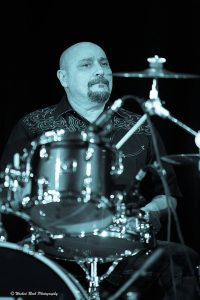 Winston Galea – Drums
Recognised as one of Australia's finest, Winston brings class musicianship to any project he is involved with. Outstanding groove tone and feel, he provides the essential engine for a top flight band. Winston began playing drums at the age of seven. He has toured extensively both in Australia and overseas in Europe and the USA with artists such as Tommy and Phil Emanuel, Dutch Tilders and the Blues Club, Lloyd Spiegel, James Morrison, Jeff Duff, Peter Cupples, Brownie McGhee, Lonnie Mack, Lonnie Brooks, Kirk Fletcher, Albert Collins, Hubert Sumlin, The Meters, to name a few.
Peter Neagoe – Bass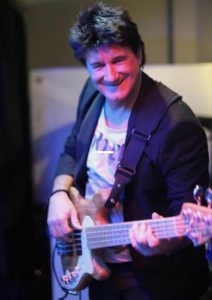 Peter has developed a wonderful reputation for his playing. His excellent musicality and groove make him an asset to any line up. Peter commenced his professional career around the Melbourne Entertainment Industry as well as touring interstate. Testament to his talent, these are some of the people he has played bass for. Doug Parkinson, Brian Cadd, Alison Durban and Eric Steckel (USA) – 2016 Melbourne tour. In recent years Peter has been a member of the Doobie Brothers and Little River Band Tribute shows before joining the Kevin Buckingham band. Peter will also be touring with Kirk Fletcher (USA), Simon kenny Lewis , Darren Jack, and Eric Steckel in 2017.
Steve Smith – Keyboards
A long time professional keyboard player, Steve has notched up some impressive credits. Steve's high levels of musicianship and the ability to truly understand songs, brings superb polish to the band. He has played with Anne and Johnny Hawker, Tracy Bartram, Chelsea Brown, Jan Adele, Maurie Fields, Jackie Love, Al Martino, Victor Borge, and has performed solo piano at home and internationally. He has also performed session work for TV and for film. Steve has worked as arranger for Lionel Bart and Darryl Cotton, and has composed and arranged for dozens of musicals.
---